Storm Warriors (2009) (HiNDi) 3GP - DVD

(Demandable 3GP)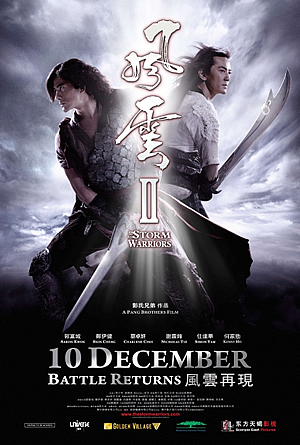 Users Rating : 0.36 (39 Votes)
Description
: Based on the comic book series "Fung Wan" and directed by The Pang Brothers comes the incredible story of two friends, Wind and Cloud, who find themselves up against a very powerful warlord intending to invade their country. In order to protect their land these two friends seek the help of the all-powerful master. Through extensive training Wind and Cloud expose themselves to the "evil" ways to increase their powers of element. When the intensive battle begins their friendship will be tested when one finds it hard to be righteous and easy to be evil.
Starcast
: Aaron Kwok, Ekin Cheng and Kenny Ho
Storm.Warriors.2009.DvDRip.Hindi-TeCHGuRU-1.3gp [ 1768 Downloaded ]
Storm.Warriors.2009.DvDRip.Hindi-TeCHGuRU-2.3gp [ 1366 Downloaded ]
Releaser Info :

TeCHGuRU
Release Date :

10th Dec 2009
Genre :

Action | Adventure | Fantasy
Duration :

1hr 47mins
Size :

105mb
Rate This Movie :

0.36 (39 Votes)
Comments Section
matzcrorkz=>XvQb6g Im grateful for the article post. Want more.

matzcrorkz=>jMGnEx I am so grateful for your article post. Really Cool.